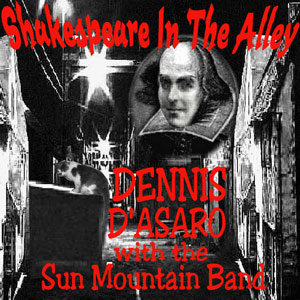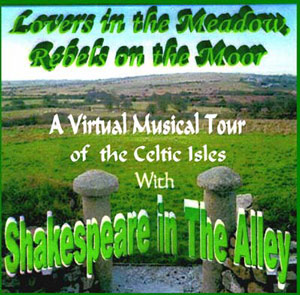 € ¥ £ $
TO ORDER SHAKESPEARE IN THE ALLEY
CDs
KINDLY SEND $15 PER CD, PLUS $2 FOR THE FIRST AND $1 PER ADDITIONAL COPY, TO:
Dennis D'Asaro
482 Anderson Road
Middleburgh, NY 12122

(518) 827-4442
Guarantee:
These are CD-Rs. I copy them out here in the office a few at a time. All CD players do not like CD-Rs equally. Car stereos seem to be the most finicky, computers the most forgiving.
After consultation with some online forum types, I now use an Alera standalone copier and Taiyo-Yuden blanks, with greatly improved consistency. If your disk nonetheless demonstrates any untoward hiccups, burbles, or downright recalcitrance --- first try it in a different player. If it is still making you unhappy, get in touch and we'll send you another one. (You may keep the dud. They make lovely...uhh.......well, anyway, keep it).
We accept cash, coin, checks, money orders, Swiss francs, and probably cowrie shells. BETTER YET, WE ACCEPT PayPal, the marvelous invention that allows anyone with a credit card to pay anyone with an e-mail address, with no muss, fuss, or cost to the payor. Just click on the logo below and follow the process for sending a payment to someone. You'll get to add a message to the payment for greetings, specifications, and your mailing address.
PayPal